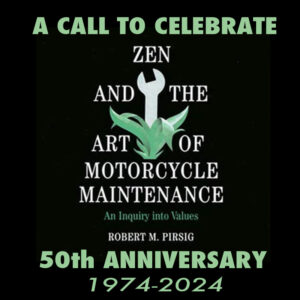 Click for #ZMM50th details.
As part of inaugurating the Robert Pirsig Association, the RPA  are calling for activities in 2024 to mark the 50th anniversary of the publication of Zen and the Art of Motorcycle Maintenance (ZMM) in 1974.
See our #ZMM50th proposals here or click the flyer image above.
[Feel free to browse around the rest of the site, subscribe for updates and/or use the contact forms with any questions or suggestions about the #ZMM50th anniversary proposals, or more generally about Robert Pirsig and the Association.]
.